Friday, April 3, 2009
A week with ups and downs
This week has had some definite ups and downs. At the beginning of the week it was my 20th birthday. My mom took me out to Pei Wei for lunch. My friend Kait was supposed to sleep over Tuesday night, and that's when all of the trouble started :c

Before coming over, Kait called to see if I could rehabilitate some rabbits that her cat had attacked. One was completely healthy, just in shock, and the other had a broken foot. My stepdad ok'd the rabbits, so they came over with Kait. They were the cutest damn things ever. 3-4 week old Cottontails, so sweet! On Wednesday we took the gimpy one to the vet and it was determined that the break was an open break, and therefore needed to be amputated or he could be put to sleep. There was nothing they could do to save the leg. He would need to be domesticated as a three legged rabbit, we wouldn't be able to release him back into the wild. So my stepdad grudgingly ok'd that the rabbits could become our pets. My mom and I went to Petsmart to pick up a new cage (since we'd gotten rid of the hutch I used to have for my other rabbit a few years ago), and some food and bedding and hay for them. The vet was going to do the amputation in the morning. "Gimpy" was a trooper, he hadn't screamed once and he was so full of life! The next morning he was even jumping around inside his little box before we took him to the vet.

After the procedure I got a call from the vet to tell me how the procedure went. He didn't make it. Wild bunnies are so erratic that when they go under anesthesia, they relax so much that their hearts stop. I was heart-broken. I was sick to my stomach all day, dreading having to go back to pick up his little body. My brothers were both so upset - everyone in my family was (even my stepdad). My youngest brother gave him a very nice burial next to our other rabbit's grave.

I was so depressed about the rabbit that my mom called me up to see if I still wanted to get Jersey Woolys (which, hello, of course I do!). She looked up some pictures of them online and fell in love with them. I explained about their size and weight and how I'd be spinning their fur, so they're a practical pet. She let me put a hold on two babies from a litter that's due to be born this month from a nearby friend. I'll be able to pick them up 6-8 weeks after they're born :)

So despite having a terrible time trying to save a poor bunny's life, I had a good birthday and I am now able to get the Jersey's I've wanted for almost a year now! We still have the other cottontail brother. He's very funny, just a little character when he explores his cage. He's pretty gentle and likes to be held, which is odd for cottontails - as a wild breed they tend to be like feral cats and run and hide as fast as their huge feet will carry them. He seems to really enjoy the human attention he gets so we're debating still keeping him or taking him to the local wildlife center to be rehabilitated. My brothers decided he was their rabbit and that they were keeping him, lol!

Pictures: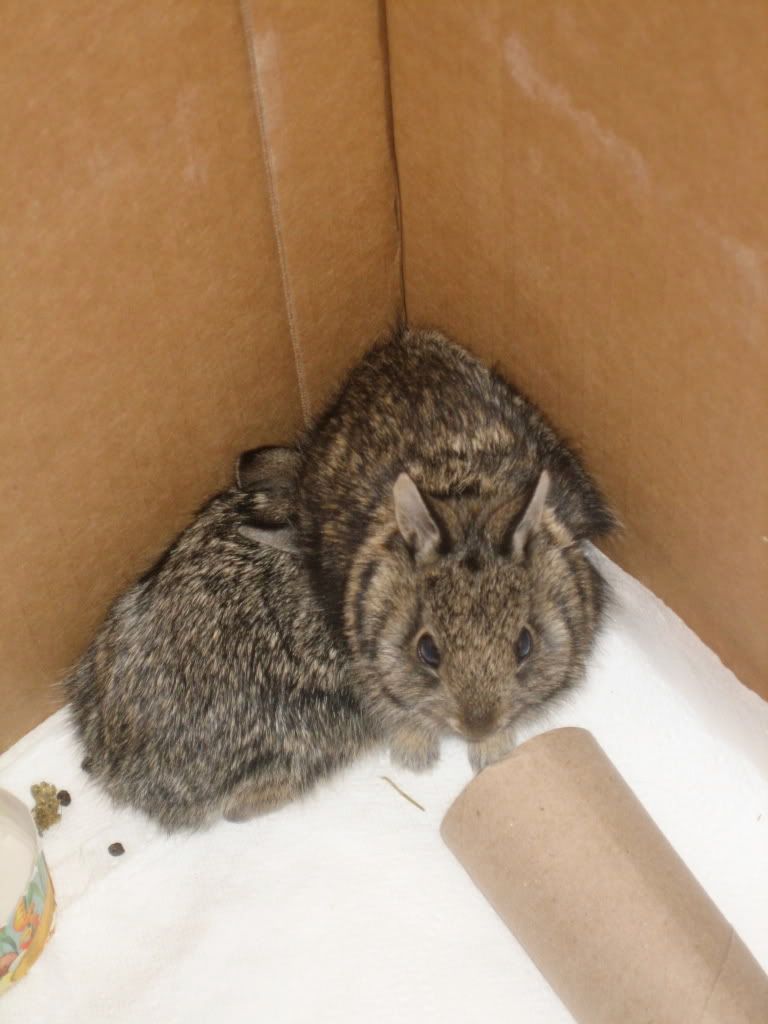 More here!
posted by Penelope Caerphilly @ 12:40 AM

About Me
Name: Penelope Caerphilly
Home: Killarney, Co. Kerry, Ireland
About Me:
Sillies. I has them.
Second Year; Slytherin; Charms Addict; Irish

Srs Bisns
Mary; 19; Slytherpuff; knitter; beader; sewer; spinner; fiber afficionado; green; yellow; addicted to yarn; addicted to knitting; love of all things vintage, especially pin-up girls; irish-english-italian-scottish-polish; NJ born n' raised; feisty red head; Zacharias Smith, Minerva McGonagall, Narcissa Malfoy, and Andromeda Black; H/D fan

To friend me on Ravelry go here and to friend me on LiveJournal go here!
See my complete profile
Meez
Swaps
Achievements
Posted HSKS7 banner with link back to main blog for early house points
Finished hand-made item early
Sent package early
Blogged for 4 consecutive weeks
Blogged for 8 consecutive weeks
Links
Roomates
Spoilee
Spoiler
Wish List
In no particular order, a list of trivial and non-trivial things that make me happy, none of which you need to get me, but I hope you get some ideas from the list:
Knit Picks Options Nickel plated needles size 8
Knit Picks Nickel Plated circular needles
Tea; I love sweet teas like chamomille, earl grey, ginger, etc
Pens; I like cool pens, I don't know why, I just do. I steal all of the good ones from the office I work at haha!
ANYTHING DISNEY. Especially Alice in Wonderland (specifically Alice, Mad Hatter, or Cheshire Cat); Beauty and the Beast; Little Mermaid; Sleeping Beauty; Cars; Wall-E; Eeyore or Tigger
Anything VINTAGE, especially from the 40s and 50s.
Anything to do with Audrey Hepburn, the woman is my idol!! Breakfast at Tiffany's is quite possibly the best movie ever made!
Penguins, Elephants, Otters, Badgers, Snakes, and Lions make me happy
I love patterns. Plaid, polka dots, vintage victorian flowery patterns, stripes, etc
Imagination sock yarn. [ unicorn, mermaid lagoon, pixie dust ]
Jewelry. Whether it's handmade, or from a place like Claires. I love to accessorize! I love necklaces with small and large pendants, especially Fleur de lis, Elephants, Birds (Owls, Sparrows), and Skeleton Keys
Photography. I'm a huuuuuuge fan of photography. I love stock photos.
Art! I love art as much as I love photography! You can see my DeviantART page to get a feel for the sort of styles I like!
Anything cute that has to do with sushi! I collect chopsticks :3
Anything to do with Pirates! ARRR!!
Music! I love discovering new music! Make me a mix CD and I will love you! Right now I'm in a moody girl music mood. I have a playlist with Taylor Swift, Erin Mccarley, and Demi Lovato. If you want to know what's in my iTunes, just ask!
Stationary / Stock / Matte cards
Nailpolish!
Bodywash / Hand lotions / Perfumes / Loufas / etc
Anything to do with the seasons. Winter and fall are my favorites, but I love having random things about them all!
Headbands!
A sock blocker! I've finally started knitting socks, and I don't have anything to block them on! [ medium sized 7-8, if that matters ]