Tuesday, March 3, 2009
Wheel: Finished!!
Whew! We got a whole foot of snow yesterday! That's the most we've gotten in about two years. I wish I did live in Scotland, because I bet the winters there are absolutely gorgeous. I love winter, it's my favorite season. I figured with the way the climate's been the last few years that we'd have one big storm - winter's last stand - before Spring arrives. It's March already? Geez. I'll be 20 in 28 days o____________o That's weird to think about.

I finished putting together Sunday night. There were a few snags a long the way - namely the wheel not fitting onto the spoke all the way, but I managed to get it on there. Today I finished 60.5 yards of heavy fingering/light DK weight yarn. I finished off my bright teal color and plied it with a really pretty apple green. It's drying now, so I'll have some pictures up when it's done.

Like I said earlier, I decided to name the wheel Einin (a-neen, meaning "little bird"), which I thought was clever and fitting. She also has Eirinn go Brach on the wheel, two eternal love knots and trinity knots on the spokes. And she says Briongloid Alainn on the inner circle, which means "beautiful dream". The treadles have the kiwi in yellow, a green fleur de lis, another trinity knot, and Tir na Nog (meaning "land of eternal youth"). She works like a dream!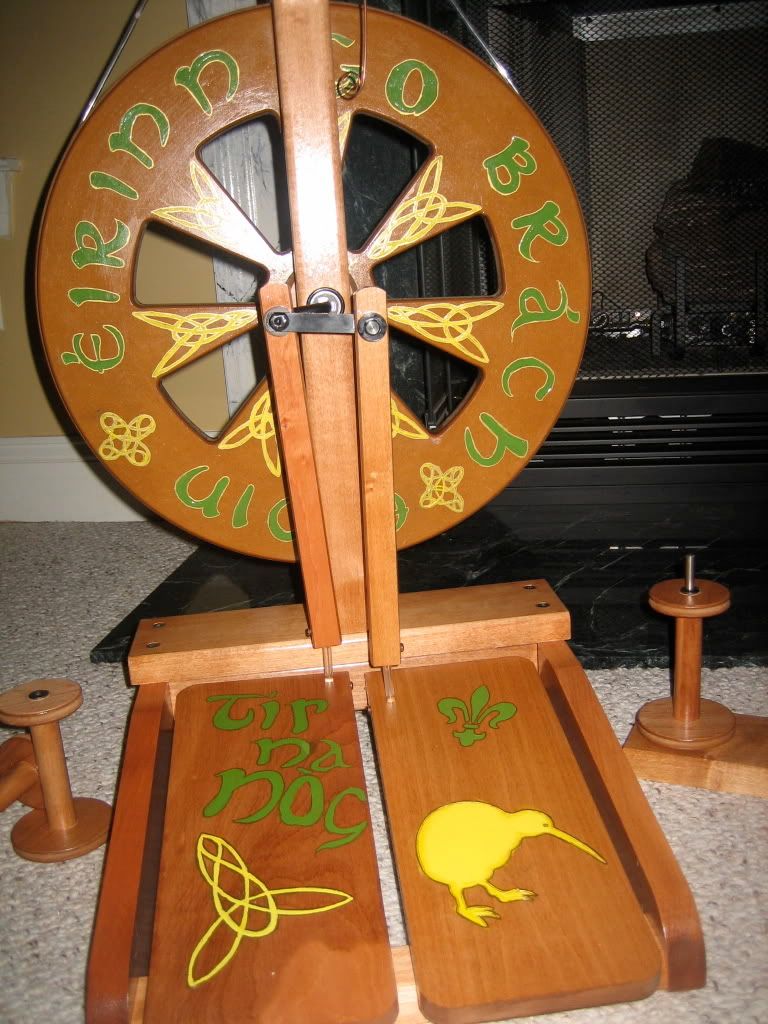 posted by Penelope Caerphilly @ 5:08 PM

About Me
Name: Penelope Caerphilly
Home: Killarney, Co. Kerry, Ireland
About Me:
Sillies. I has them.
Second Year; Slytherin; Charms Addict; Irish

Srs Bisns
Mary; 19; Slytherpuff; knitter; beader; sewer; spinner; fiber afficionado; green; yellow; addicted to yarn; addicted to knitting; love of all things vintage, especially pin-up girls; irish-english-italian-scottish-polish; NJ born n' raised; feisty red head; Zacharias Smith, Minerva McGonagall, Narcissa Malfoy, and Andromeda Black; H/D fan

To friend me on Ravelry go here and to friend me on LiveJournal go here!
See my complete profile
Meez
Swaps
Achievements
Posted HSKS7 banner with link back to main blog for early house points
Finished hand-made item early
Sent package early
Blogged for 4 consecutive weeks
Blogged for 8 consecutive weeks
Links
Roomates
Spoilee
Spoiler
Wish List
In no particular order, a list of trivial and non-trivial things that make me happy, none of which you need to get me, but I hope you get some ideas from the list:
Knit Picks Options Nickel plated needles size 8
Knit Picks Nickel Plated circular needles
Tea; I love sweet teas like chamomille, earl grey, ginger, etc
Pens; I like cool pens, I don't know why, I just do. I steal all of the good ones from the office I work at haha!
ANYTHING DISNEY. Especially Alice in Wonderland (specifically Alice, Mad Hatter, or Cheshire Cat); Beauty and the Beast; Little Mermaid; Sleeping Beauty; Cars; Wall-E; Eeyore or Tigger
Anything VINTAGE, especially from the 40s and 50s.
Anything to do with Audrey Hepburn, the woman is my idol!! Breakfast at Tiffany's is quite possibly the best movie ever made!
Penguins, Elephants, Otters, Badgers, Snakes, and Lions make me happy
I love patterns. Plaid, polka dots, vintage victorian flowery patterns, stripes, etc
Imagination sock yarn. [ unicorn, mermaid lagoon, pixie dust ]
Jewelry. Whether it's handmade, or from a place like Claires. I love to accessorize! I love necklaces with small and large pendants, especially Fleur de lis, Elephants, Birds (Owls, Sparrows), and Skeleton Keys
Photography. I'm a huuuuuuge fan of photography. I love stock photos.
Art! I love art as much as I love photography! You can see my DeviantART page to get a feel for the sort of styles I like!
Anything cute that has to do with sushi! I collect chopsticks :3
Anything to do with Pirates! ARRR!!
Music! I love discovering new music! Make me a mix CD and I will love you! Right now I'm in a moody girl music mood. I have a playlist with Taylor Swift, Erin Mccarley, and Demi Lovato. If you want to know what's in my iTunes, just ask!
Stationary / Stock / Matte cards
Nailpolish!
Bodywash / Hand lotions / Perfumes / Loufas / etc
Anything to do with the seasons. Winter and fall are my favorites, but I love having random things about them all!
Headbands!
A sock blocker! I've finally started knitting socks, and I don't have anything to block them on! [ medium sized 7-8, if that matters ]